Spam isn't just annoying, it's costly and a real threat to your business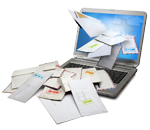 If you've got an email address you've got spam. Maybe not today, maybe not tomorrow, but soon and for the rest of your life! Every email address is discovered by spammers sooner or later and once you're on one list you're on them all, selling email lists is big business and one of the primary reasons spam even exists today.
We all know spam is annoying, but for businesses there can be serious costs and consequences to not dealing with spam before it enters your system. The amount of time spent by employees checking and deleting spam is significant, when you factor in the potential costs of dealing with a virus received by email the financial implications could be unthinkable. Even the best Anti-Virus can not block every virus given permission to run by an unsuspecting user opening an attachment.