Get your head in the cloud, not in the sand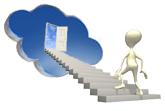 Many small and medium enterprises lack the resources to plan and implement a security strategy to fully protect their valuable data. Others simply don't understand the risks or don't recognise the threats to their data.
The internet can be your companies biggest friend, but it is definitely your companies biggest enemy. If you ignore the threat it presents sooner or later it will strike. Don't be fooled in to believing you are safe because you have Anti-Virus, or because you put a tape in the drive every day, you aren't!